SARAH SYLVESTER
Owner + Lead Floral Designer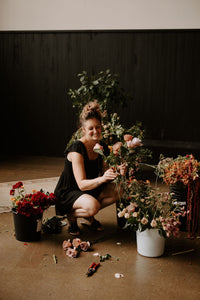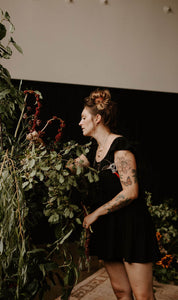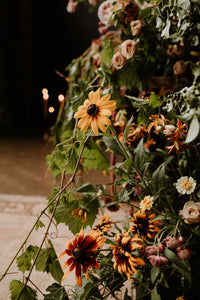 The love of flowers was planted early for me. I vividly remember planting impatiens with my mother outside of our home in the country, and enjoying playing outside with my childhood dog among the tall trees. There was a blossoming crabapple tree, intoxicating lilacs and a mammoth viburnum that softly snowed its petals in the corner of our yard. Fast forward roughly ten years to my first flower shop job. It was a beautiful and prestigious shop downtown in Stratford Ontario. I washed buckets, mopped floors and was eventually afforded the opportunity to learn a few basic floristry skills. Conditioning flowers, designing hand-tied bouquets, vase arrangements and customer service soon became a regular part of my responsibilities. It was here that my love of floristry was nurtured. 
After attending university I subsequently moved into a career in healthcare. During this time I learned how to care for people, communicate in difficult and fragile situations and maneuver complicated relationships and dynamics. Five years passed and I made the decision to retire from my position as a registered nurse, to set the wheels in motion toward opening my own floristry business. A 12'x12' shed was soon lovingly built from entirely reclaimed materials, in the back corner of my then country home. My first studio space came to life, and it was there that I made seasonal wreaths, vessel arrangements, butcher paper wrapped hand-tied bouquets and produced my first large event. I answered telephone calls, responded to texts and replied to facebook messages from customers looking to order my floral designs. 
"
Sarah was the florist for my daughter's wedding this May. She created magic and romance in not one but two very separate venues. Sarah made sure my daughter's vision and her's were aligned, and the result was breathtaking. We would highly recommend Sarah for her excellent service and gorgeous creations!

"
The business thrived, and I soon found myself graduated to a beautiful studio space within an old church. I carefully curated styling and small rental inventory, consulted with my clients and produced beautiful and enticing floral works for events and every day. I learned how to blog, attended floral design workshops, classes and mentorships while expanding my skill set and creative brain.  
Now, you can find me in a beautiful old brick and mortar shop in downtown Stratford Ontario.  With a moody and luxurious aesthetic, we create seasonally inspired and elevated floral works with the most beautiful local, imported and ethically foraged botanical product available.  Gorgeous and grounded hand-tied bouquets, alluring floral arrangements, timeless and provocative events and an impeccably curated selection of European antiques. We also grow nearly half an acre of fresh, seasonal flowers and foliages, offer in town floral delivery, and extend a wonderful selection of seasonally inspired floral design workshops. Alongside our lovely retail inventory, we also produce our own line of branded products. Thanks for being here with me.